Whole wheat fusilli with pumpkin and crispy bacon
A typical autumn first course with pumpkin and crispy bacon.
Inside the recipe
Whole wheat fusilli with pumpkin and crispy bacon
At the stove: Renza Nardi
Today we are making a first course with the prince ingredient of Autumn… Pumpkin!
A delicious pasta in which the sweet and delicate flavor of pumpkin goes well with the savory and rich taste of bacon.
At the Kitchen stations … it's on!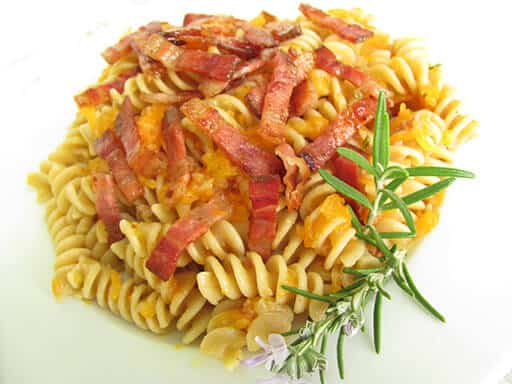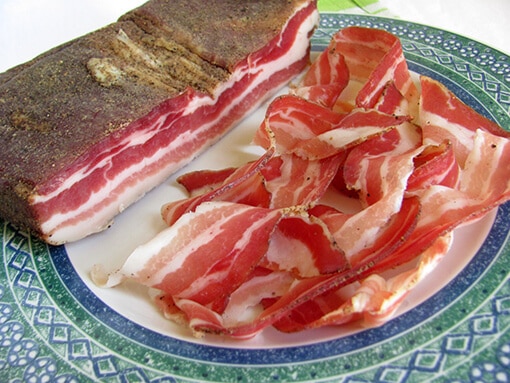 250 g

of

whole wheat fusilli

400 g


of

Pumpkin
100 g

of

Bacon spread
1 onion
2

sprigs of

Rosemary
Salt, Pepper

e

Oil

extra virgin
Step 1
Clean the pumpkin and cut it into cubes.
Step 2
Chop the onion, half of the bacon and rosemary in the blender, pour the resulting chopped mixture into a pan with four tablespoons of oil; brown and add the pumpkin cubes as well, season with salt and pepper.
Wet with a tiny bit of water if needed, put the lid on, and cook over low heat for about 15 minutes or until the squash is soft.
Step 3
Then mash the pumpkin with a fork until it almost creates a puree.
Step 4
Put the pasta to cook in boiling salted water, and while the pasta is cooking, cut the remaining bacon into strips and put it to brown over low heat until it is nice and crispy.
Step 5
Drain the pasta, toss with the prepared sauce and crispy bacon. Serve nice and hot perhaps with plenty of Parmesan cheese.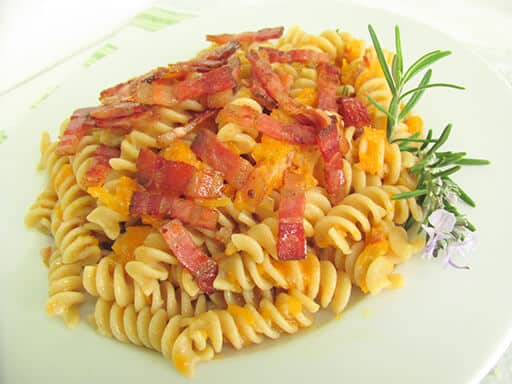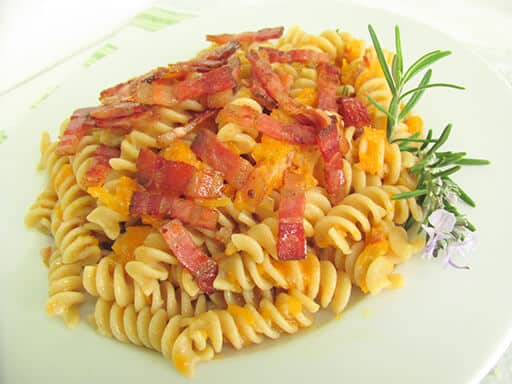 Renza Nardi
Appassionata e creativa in cucina: il suo hobby preferito è realizzare nuove ricette e condividerle nel suo Blog "Sfizi e Pasticci".
NewsLetter Happy Recipes
Stay up to date on the latest recipes in the Rubric