Swivels with zucchini and bacon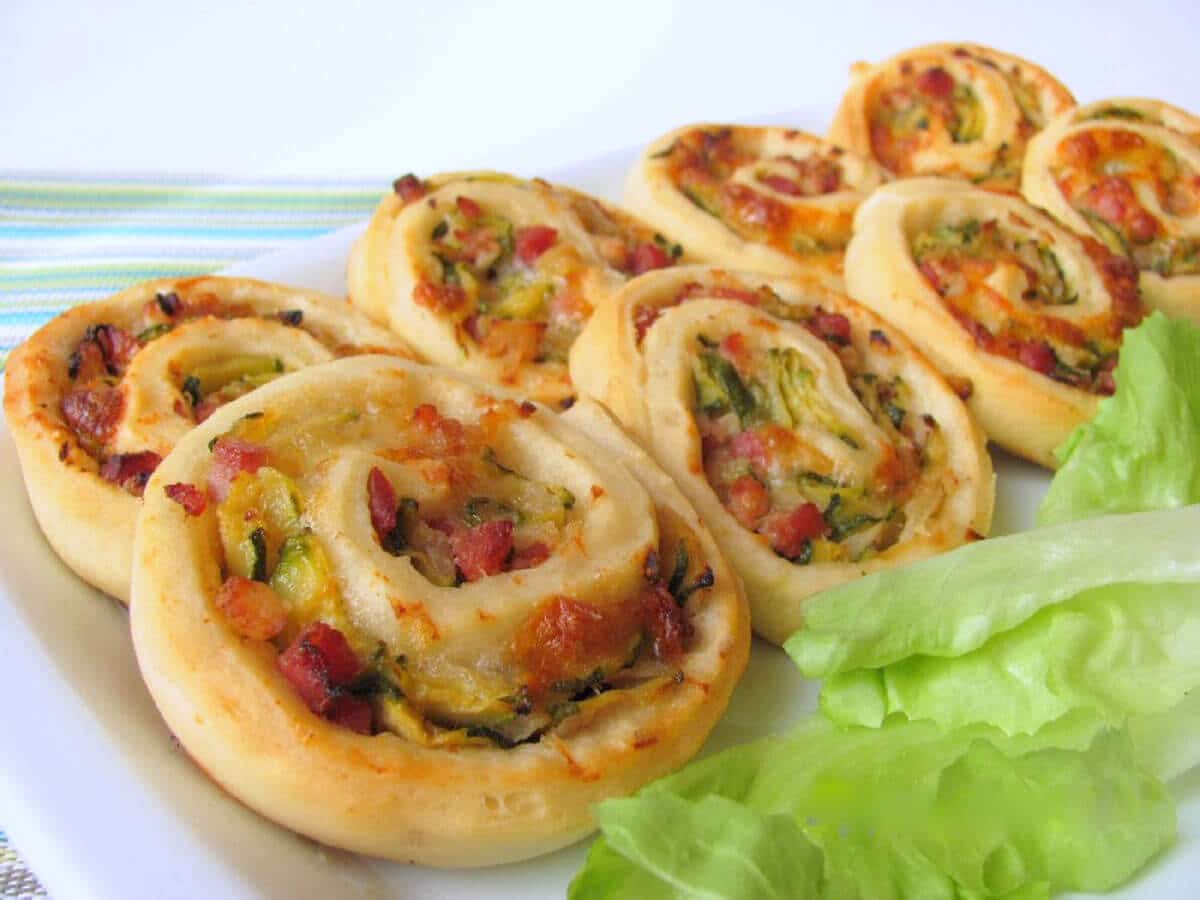 These swivels are pretty to look at and are definitely tantalizing, one pulls the other!
Inside the recipe
Swivels with zucchini and bacon
At the stove:
Renza Nardi

They can be prepared freshly or a little in advance since we can enjoy them either hot or cold.
If they are then prepared with ready-made puff pastry with a few simple moves you get a great finger food!
Let's put on the grenbiule… we're off!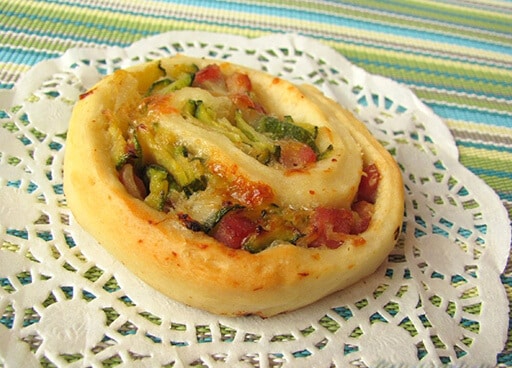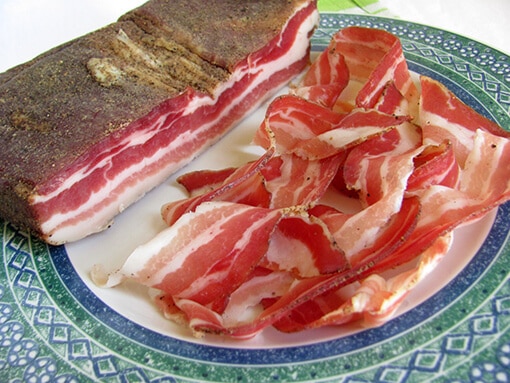 For the dough: dough ingredients
For the filling:
3 medium zucchini
150 gr. of bacon
1 onion
50 gr.

of

grated parmesan cheese
100 gr. of smoked provola cheese
1 egg for brushing

Extra virgin olive oil

Halls
Step 1
First prepare the dough. I made my own pizza dough but another kind of dough or even ready-made puff pastry, the rectangular kind, is fine.
Step 2
Once the dough is prepared, we think about the filling. Clean the onion, slice it thinly and sauté it in a large frying pan with a little oil over low heat. Dice the
bacon
, pour it into the pan with the onion and let it brown, also add the finely sliced zucchini and cook them for about 5 minutes, stirring often. Then transfer it to a bowl and let it cool completely.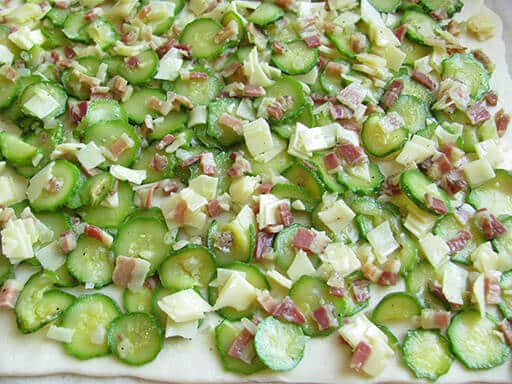 Step 3
Turn the risen dough upside down on a sheet of baking paper and roll it out with a rolling pin forming a rectangle, (if we use puff pastry the rectangle is already prepared) distribute the well-chilled filling on the pastry forming a compact and even layer and leaving all around an uncovered edge of a couple of cm.
Step 4
Sprinkle the layer of bacon and zucchini with the parmesan cheese and diced provolone; then roll the pastry from the longest side, helping yourself with the parchment paper to make a firm roll.
Seal the edge well lengthwise, pressing it down with your fingers, and brushing the seam several times with beaten egg.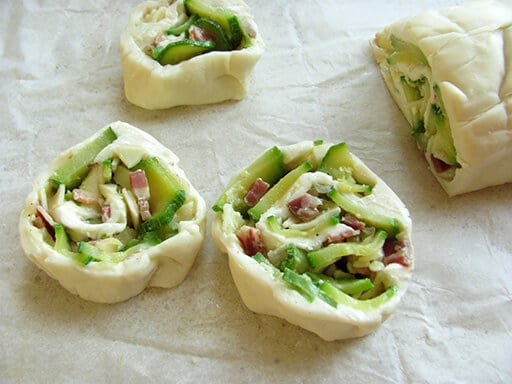 Step 5
Cut the roll into logs about 1 cm thick with a sharp knife to make many even swirls.
Then place them on a baking sheet lined with parchment paper and bake in a preheated oven at 180 for 15 to 20 minutes, or until the swirls are puffy and golden brown.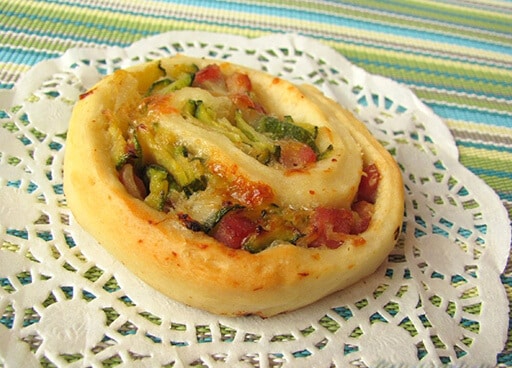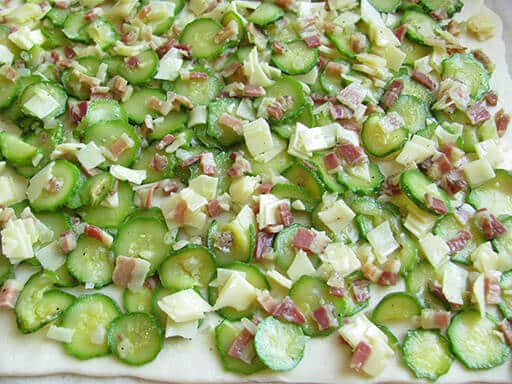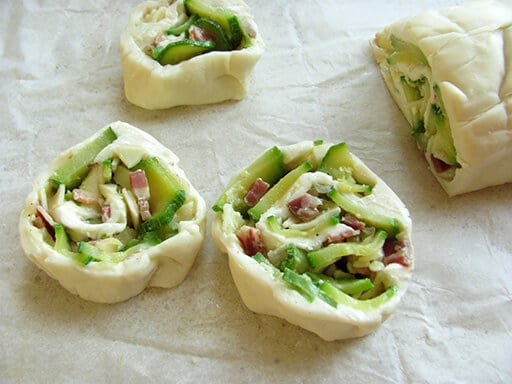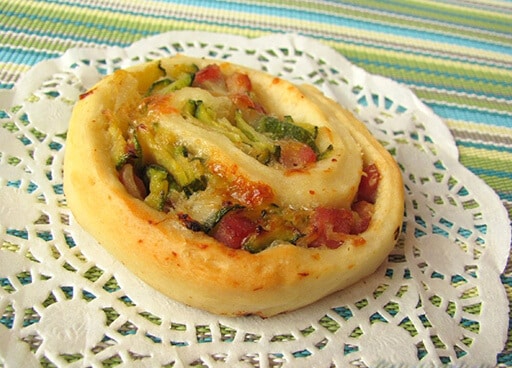 Renza Nardi
Appassionata e creativa in cucina: il suo hobby preferito è realizzare nuove ricette e condividerle nel suo Blog "Sfizi e Pasticci".
NewsLetter Happy Recipes
Stay up to date on the latest recipes in the Rubric